08

Jul
This time last year, this would have been an easy choice - Derek Carr would have won hands down. Roll forward one year, and the Mountain West has changed some more, but this time there are probably six guys who could be at the top spot in any given year - except maybe this one. With the brief Big East flirtation by Boise State and San Diego State in the rearview mirror, plus the addition of the top two teams in the WAC in Utah State and San Jose State, competition in the MWC has been amped up - and so has quarterback play!
What a nice, diverse bunch too. We have the cannon-armed pocket passers, the mobile spread QBs, and the guys who are almost running backs who can pass. What makes it even more exciting is the top six QBs (well, make that five) are contenders for the league crown, so the competition should be intense. The great divide between each player will be a mix of previous production, returning talent and scheduling. You can offer your approval, objections or abuse in the comments or find me on Twitter.
Derek Carr, Fresno State
Yes, I'm going with Carr again, but it wasn't an easy choice. He has his flaws - mostly caused by pressure - but he's a fine QB who has progressed nicely over the last couple of years. Last season he passed for 4104 yards and 37 TDs, with just 7 interceptions. This season he has all his receivers back, but needs to replace his top RB and a couple of linemen. Carr has to show he can contend against the tougher teams on his schedule (Rutgers and Boise State), but right now he's a (slim) Heisman hopeful and a frontrunner for a second consecutive Mountain West OPY.
Chuckie Keeton, Utah State
When Keeton started as a freshman in 2011, he showed some flashes before an injury cut short his season. The guy who came back the following year was night-and-day better. Keeton is an athletic QB who improved greatly as a QB, passing for 3373 yards and 27 TDs, although he threw 9 interceptions. He can also beat you with his legs, rushing for 619 yards and 8 scores. The loss of his HC from last season would have been a greater concern had his position coach, Matt Wells, not been promoted to the top spot. The offense returns the whole line and starting TE, but the other skill positions will be held by first time starters. The best news is, he's only a junior and should be back on this list next year too.
David Fales, San Jose State
A JUCO signee who was considered "worth keeping an eye on", Fales showed why he raised eyebrows in community college by repeating the feat with SJSU. He showed unerring accuracy (72.5%) while passing for 4193 yards and 33 TDs, with 9 interceptions. He led a stagnant Spartan team to 11 wins, despite having one of the worst running attacks in the FBS. He brings back most of his offensive line and a great bunch of receivers, but the biggest loss may be HC Mike McIntyre, who went to Colorado. New top man Ron Carragher orchestrated a prolific passing attack at San Diego that may just suit Fales.
Joe Southwick, Boise State
Southwick may have divided the fans in his first season replacing Bronco legend Kellen Moore, but that was a monster task for anyone. While his overall stats - 2901 yards, 20 TDs and 7 interceptions - were good but not great, his improvement over the course of the season was impressive. After a tough loss to San Diego State that cost the Broncos the division title, Southwick turned up the heat and passed for 888 yards and  9 TDs without an interception over the last four games - all wins. The Broncos open at Washington, their bowl opponent last season, and if Southwick can build on his strong finish to last season against their toughest opponent in 2013, a big season could be in the offing.
Cody Fajardo, Nevada
Fajardo was a pleasant surprise when he took over for the accomplished Colin Kaepernick in 2011, and kept the Pistol offense ticking over. In fact, if the defense hadn't struggled, Nevada would have contended for the MWC title the last two seasons. Fajardo might not be the pure passer (and I stress "might") the others above him on the list are, but he is easily the best runner, picking up 1121 yards and 12 TDs to go with his 2786 passing yards and 20 scores (9 interceptions). He has plenty of talent returning, but how much will the retirement of HC Chris Ault affect them? The Wolfpack will still run the Pistol, but how will it (and Fajardo) succeed without the Master calling the shots?
Brett Smith, Wyoming
This is more a case of 5a and 5b, as Smith and Fajardo both have plenty of talent. Why does Smith fall? Well, Laramie has always been a tough place to bring in top recruits, even by MWC standards. That they compete at all is a combination of good coaching by Dave Christensen and co., and the play of Smith at QB. He set the standard as a redshirt freshman, leading the Cowboys to a bowl game, and showed improvement last season, despite missing some time with injury. His slight frame has led to him running less, although he is still a threat on the ground. Last season he passed for 2837 yards and 27 TDs with just 6 interceptions, none in the last five games. He also ran for 248 yards and 6 scores. He bulked up in the offseason, and his three starting receivers return. If he can stay healthy, Wyoming could surprise.
Adam Dingwell, San Diego State
When Ryan Katz went down with injury midway through last season, SDSU's season looked lost. Step forward Dingwell, who went on a 4-1 kick to close out the season. He didn't have to do it all himself - the Aztecs had one of the nation's best running attacks - but he did make some plays along the way. He also made some mistakes, and at times was just downright ugly, but he's got some talent returning and a new OC in Bob Toledo who knows a thing or two about QBs. The fact that the Aztecs will run first again next season keeps Dingwell from threatening the top 6 of the list, but as the coaching staff trust him more and open up the playbook, he should make more plays down the field. Last season he passed for 939 yards with 8 TDs and 7 interceptions (3 in their bowl game). He also ran for 104 yards and a score.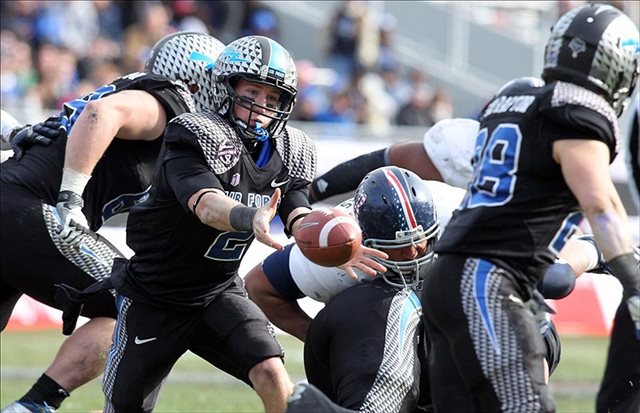 Kale Pearson, Air Force
Pearson didn't do much as a sophomore last season, rushing for 49 yards and 2 TDs and passing for 128 yards and 4 interceptions, but if word out of camp is to be believed, he could be one of the breakout sophomores of 2013. He had a great camp last season as well and looks to have a grasp on the starting job heading into fall. He's already an outstanding runner, and has shown the ability to throw the ball well, despite what last season may suggest. He also has his top receiver back, but of course he has to show he can run the triple option, no easy task. The biggest knock on Pearson? His size - at a mere 5'9 and 175 pounds, he has to show he withstand the battering that comes with being an option QB. Of course, opponents have to catch him first.
Garrett Grayson, Colorado State
Sophomore Grayson started the 2012 season and lasted four games before a broken collarbone cut it short. Although the Rams started 1-3, Grayson showed he could be the guy to lead them back from their current state of mediocrity. Last year he passed for 946 yards and 7 TDs, with just three interceptions, and looks to have the edge in camp. He should be able to rely on the running attack with the offensive line and a bunch of useful runners back, and he may have to with question marks surrounding the receiving corps. First he has to focus on winning the starting job.
Cole Gautsche, New Mexico
Another run-first QB, Gautsche took over when starter BR Holbrook went out for the season with four games left, and looks like he could be a keeper. The freshman didn't win any of those games, but kept the last three close. Against Wyoming, he looked like he may even have some potential as a passer (155 yds, 2 TDs), something which could complement the Lobos already potent running attack. The freshman saw a lot of action, rushing for 760 yards and 7 TDs, while passing for 222 yards and 2 scores, with 2 interceptions. Having star RB Kasey Carrier back is a definite plus, but no starters return at receiver (less of an issue than you would imagine). The only x-factor is JUCO Clayton Mitchem, who looks to be a better passer.
Nick Sherry, Nevada-Las Vegas
UNLV haven't been a particularly good team lately, so when Sherry got thrown into the lion's den as a freshman, no one would have been surprised if he went down in flames. Instead, he was the one doing the surprising, passing for 2544 yards and 16 TDs, although he threw 17 interceptions. Sherry has a great arm and has shown a marked improvement in camp, and also has the benefit of having eight starters back on offense, including his favorite receivers from 2012. However, he's on his second QB coach (Timm Rosenbach) in two seasons, although it looks to be a change for the better. It wouldn't surprise me if Sherry ended higher up on the list at the end of the season, although I can't see the Rebels performing above expectations.
Taylor Graham, Hawaii
HC Norm Chow looks to be adamant he wants a JUCO QB from the BCS ranks leading his offense. First it was Sean Schroeder from Duke (who's still around), now it's (potentially) Taylor Graham from Ohio State. The problem is, Graham has only played in one game and hasn't thrown a pass, or even taken a knee. Like Schroeder before him, he hasn't played much at this level. He does have good bloodlines, being the son of (sort of) NFL QB Kent Graham, and has the size and arm to run Chow's offense. The problem is, Hawaii weren't very good last season, and despite returning six starters, they won't scare anyone this year. The receivers are built for a spread offense, while the offensive line need a hard lesson in pass protection. Graham may have the ability to play, but does he have the personnel?